Among other things since becoming president, Barack Obama has:
Is Obama really the 'lesser of two evils'?
Could John McCain or Mitt Romney have gotten away with what President Barack Obama is doing? Where Democrats once feverishly denounced the actions of George W. Bush, they are now eerily silent when their own candidate behaves in much the same way as his predecessor (
read entire article
).
News after Obama was elected to a second term
- listed (roughly) chronologically, most recent first: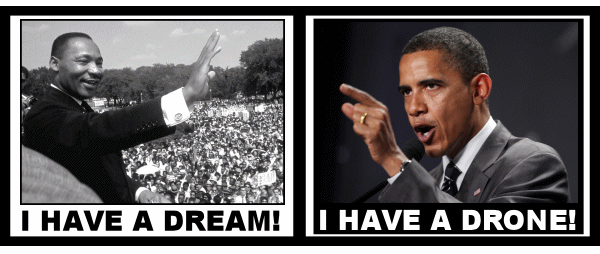 At the same time the US is accusing Russia of being militarily provocative, the US sent 600 troops to Poland to counter "Russia's aggression in Ukraine;" deployed six American F-15 aircraft inside Lithuania; pledged a $10 million increase in border security aid to Moldova; declared its desire to strengthen NATO's military cooperation with Armenia and Azerbaijan; stated that it wanted to send more troops to Romania; decided to send more US troops and military aircraft into Uganda; announced it would expand its covert support of the

Syrian

opposition, and fomented unrest in

Venezuela

.
US secretly created '

Cuban Twitter

' to stir unrest (READ). White House calls it a "a development-assistance programme." (READ).
Obama

The Least Transparent President in History

(READ).
Obama says

'bigger nations cannot simply bully smaller ones'.

Wait... what? (READ).

Obama defends Iraq invasion

: "But even in Iraq, America sought to work within the international system. We did not claim or annex Iraq's territory, nor did we grab its resources for our own gain. Instead, we ended our war and left Iraq to its people and a fully sovereign Iraqi state could make decisions about its own future." (READ).
Obama Wants

More NATO Troops in Eastern Europe

(READ).
US Regime-Change Operation in

Ukraine

Exposed in Leaked Diplomatic Phone Call (READ).
The Obama administration

has killed 4,700 individuals

in numerous countries, including Pakistan, Yemen and Somalia, bragged Sen. Lindsey Graham (READ).
Obama administration extends $6.5 billion loan guarantee to build

nuclear reactors

(READ).
One of the most generous offerings for

corporate America

in the U.S. tax code is about to become even more bountiful under an Obama administration proposal (READ).
Obama's

NSA 'Reforms'

Are Little More Than a PR Attempt to Mollify the Public (READ).
Obama Unveils Vague

NSA

'Reforms,' Denies Wrongdoing (READ).
Groups to Obama: Your Fossil Fuel-Driven Policies Equal '

Catastrophic Climate Future

' (READ).
Christmas day, 2013 announcement: Obama is sending

Hellfire missiles and drones to Iraq

(READ).
Obama plans $355 billion upgrade to

nuclear weapons

(READ).
Obama's

photo policy

smacks of propaganda (READ).
"I am sorry that they, you know, are finding themselves in this situation, based on assurances they got from me," said Obama, apologizing to Americans receiving

insurance cancellation notices

. In 2009, Obama said: "If you like your health-care plan, you'll be able to keep your health-care plan, period. No one will take it away, no matter what." (READ).
"A Corporate Trojan Horse": Obama Pushes Secretive

TPP Trade Pact

, Would Rewrite Swath of U.S. Laws (READ).
Amid government shutdown, Obama signals

cuts to Social Security, Medicare

(READ).
Obama wants war on

Syria

, the people don't (READ).
Obama appears to be delusional:

'I didn't set a red line (on Syria), the world set a red line'

(READ).
Obama administration asks Supreme Court to

allow warrantless cellphone searches

(READ).
White House knew

Glenn Greenwald's partner

David Miranda would be detained (READ).
Obama refuses to cut off military aid to

Egypt

in spite of brutal crackdown on protesters (READ).

Obama Appoints Documented 'Liar' to Convene NSA Review Board

-- Investigation established by James Clapper is part of president's so-called transparency reforms (READ).

Obama's 'Tonight Show' Domestic Spying Comments

Contradicted By New York Times Story (READ).
Obama toasts

George HW Bush

: 'We are surely a kinder and gentler nation because of you' (READ).
The case against

Edward Snowden

is the seventh under President Barack Obama in which a government official has been criminally charged with leaking classified information to the media. Under all previous presidents, just three such cases have been brought. (READ)
Obama administration implementing a crackdown called the

Insider Threat Program

. Millions of federal employees must watch for "high-risk persons or behaviors" among co-workers and could face penalties, including criminal charges, for failing to report them. Leaks to the media are equated with espionage. (READ).
The CIA has been operating a secret

drone base in Saudi Arabia

for the past two years (READ).
"Obama is running the

biggest terrorist operation that exists

, maybe in history" - Noam Chomsky

Edward Snowden:

Obama expanded

'abusive' security programs (READ).
In justifying his actions in

Syria

, Obama said, "[T]here are folks who say, you know, 'We are so scarred from Iraq. We should have learned our lesson. We should not have anything to do with it.' Well, I reject that view as well." (READ)
In his 2009 inaugural address, Obama claimed that "we reject as false the choice between our safety and our ideals." Now, in

defending NSA spying

, Obama says, "You can't have 100 percent security and also then have 100 percent privacy… We're going to have to make some choices as a society." (READ)
Obama decides to arm rebels in

Syria

, in spite of it being against U.S. law to arm designated terrorist organizations. Obama's justification: The arms sent by the U.S. won't get into the hands of the al-Qaeda fighters amongst the rebels (READ)
Obama defends

PRISM

sweeping surveillance efforts (READ).
Obama's NSA collecting Verizon customer phone records - under the Obama administration the communication records of millions of US citizens are being collected indiscriminately and in bulk, regardless of whether they are suspected of any wrongdoing (READ).
President Obama uses a sledgehammer against dissent - From Jeremy Hammond to Bradley Manning and the AP, Obama's 'assault on journalism' is a threat to our democracy (READ).
Obama

admits the U.S. kills innocent civilians

: "it is a hard fact that U.S. strikes have resulted in civilian casualties" (READ).
The United States has formally said for the first time that it killed Yemeni-American cleric

Anwar al-Awlaki and three other US citizens

in anti-terror strikes abroad (READ).
Obama administration secretly obtains trove of

Associated Press phone records

in "unprecedented intrusion" (READ).
Cornel West: Obama 'Is a

War Criminal

' (READ).
Four Obama policies that help keep

Gitmo

open (READ).
Obama's calls

George W. Bush

a "good man" at Bush library dedication (READ).
The first of 500 Marines have begun deploying to

Spain

as part of a new rapid reaction force to respond to threats against U.S. citizens, government personnel or installations in Africa (READ).

It's Official: A Democratic President

Proposes to Cut Social Security

(READ).
While Urging Gun Laws at Home,

Obama Joins NRA

to Weaken U.N. Arms Trade Treaty (READ).
Signed the

Monsanto Protection Act into law.
Obama Admin: GPS Tracking Without Warrants 'Necessary' - Insists

Tracking Americans' Every Movement Has 'Minimal' Privacy Impact

(READ).
Obama inflames

anti-Iran hysteria

by speculatively claiming "Right now, we think it would take over a year or so for Iran to actually develop a nuclear weapon, but obviously we don't want to cut it too close" (READ).
Obama administration to let

spy agencies

scour Americans' finances (READ).
News prior to Obama being elected to a second term
US Resumes Arms Sales to

Bahrain

. Less than three months after including Bahrain on a list of human rights offenders requiring the United Nations' attention, the Obama administration seems to have changed its mind (read).
Obama silent as U.S. murders

Troy Davis

(read).
Peace Prize-Winner Obama Savages

Somalia

(read).
U.S. assembling

secret drone bases

in Africa, Arabian Peninsula, officials say (read).
"Obama cozies up to

Uzbekistan

dictator" - lobbies congress to sell more military equipment to one of the world's most repressive leaders (read).
U.S. to build new massive prison in

Bagram

, Afghanistan (read).
New American Ally in

Somalia

: 'Butcher' Warlord (read). (Also check out Jeremy Scahill's extensive piece on U.S. history in Somalia).
The United States reserves the right to

pursue terrorists unilaterally in other countries

, White House counterterrorism adviser John Brennan said in a speech at Harvard Law School (read).
The Obama administration has significantly increased the frequency of drone strikes and other air attacks against the al-Qaeda affiliate in

Yemen

in recent months amid rising concern about political collapse there (read).
Obama Pushes

NAFTA

Style Trade Policy Despite 2008 Promise (watch).
Obama said that if the

Palestinians

try to achieve statehood in the UN Security Council, the US will oppose the proposal (read).
Obama abandoned a contentious new

air pollution rule

, buoying business interests that had lobbied heavily against it, angering environmentalists and rejecting the advice of his top environmental regulators (

read

).

Related: Obama asked the U.S. Environmental Protection Agency to withdraw a plan to limit smog pollution that was projected to prevent as many as 12,000 premature deaths from heart and lung complications (

read

).

US kills 30 in airstrikes on

Yemen

(

read

).
Jeremy Scahill: What's happening in

Libya

is essentially a "NATO enforced regime change" and that President Obama is "implementing the Bush domino agenda in the Middle East" (

watch

).
Obama Goes All Out For

Dirty Banker Deal

(

read

).

A secret war in 120 countries

: Somewhere on this planet an American commando is carrying out a mission. Now, say that 70 times and you're done ... for the day. (read).
Progressives Complain Obama's Debt Deal 'Trades People's Livelihoods for the Votes of a Few Unappeasable Right-Wing Radicals' (read).
Rep. Luis Gutierrez Arrested Outside White House Protesting Record Deportations Under Obama's Watch (read).

Obama exploits the tragedy in Norway


"It's a reminder that the entire international community has a stake in preventing this kind of terror from occurring," Obama said prior to learning the identity of the assailant, clearly trying to justify his military strikes in 6 Muslim nations. No doubt Obama was later stunned, if not disappointed, that the person responsible for the killings in Norway was a non-Arab Christian, and not a 'Muslim terrorist'.
Obama's escalating war in

Yemen

- As its government teeters, the impoverished and chaotic Gulf nation is the focus of a U.S. bombing campaign (read).
Obama's

approval ratings

across the Arab World are 10% or less, according to a Zogby study of about 4,000 people (read).
CIA Exhales: 99 Out of 101

Torture

Cases Dropped (read).
U.S. millions fund world's newest army,

South Sudan

, despite worries of its human rights abuses, including killings, most recently in April when hundreds of civilians were killed or wounded by the U.S. ally (read).
The Obama administration is expanding its drone war to

Somalia

, which makes six countries where the United States is using drones to conduct lethal attacks: Somalia, Afghanistan, Pakistan, Libya, Iraq and Yemen (read). Also, the US is supplying drone aircrafts to

Uganda

and

Burundi

to help them fight in Somalia (read).
Obama Admin Warns of "Fines and Incarceration" if U.S. Citizens Set Sail with

Gaza

Aid Flotilla (read).

"Yet tonight, we take comfort in knowing that the tide of war is receding,"

Obama trumpeted in his speech announcing his plan to withdraw some U.S. troops in Afghanistan (read).

(Given that George W. Bush had about half as many troops in Afghanistan as Obama will after the withdrawals, this claim is disingenuous. But what takes Obama's assertion to the level of Orwellian, is that he makes this claim while he has started new wars in Libya and Yemen, has escalated drone strikes in Pakistan, has ramped up the U.S. proxy war in Somalia, and has begun funding the new army in South Sudan.)

Just prior to Obama's speech on withdrawing some troops from

Afghanistan

, the U.S. Army Corps of Engineers awarded a $14.2 million contract to a Turkish company to construct an eight-building barracks complex for 12,000 troops at Bagram Air Field. Completion date is scheduled for fall of 2013 (read).

Former CIA Director Hayden: Obama follows in Bush's footsteps on War Powers (read) in

Libya

. In a campaign marked by stinging criticism of President George W. Bush's alleged executive excess, then-candidate Obama wrote: "The President does not have power under the Constitution to unilaterally authorize a military attack in a situation that does not involve stopping an actual or imminent threat to the nation." Yet Obama is now claiming authority to bomb

Libya

.
Obama overruled 2 top lawyers on War Power in

Libya

(read)

.

Dennis Kucinich, Ron Paul and eight other congress members file lawsuit against Obama for taking military action in

Libya

without first seeking congressional approval, an apparent violation of the 1973 War Powers Resolution (read).
Noam Chomsky: "Both Bush and Obama are terrified of the

Arab spring

. And there is a very sensible reason for that. They don't want democracies in the Arab world. If Arab public opinion had any influence on policy, the US and Britain would be tossed out of the Middle East. That's why they are terrified of democracies in the region" (read).

Whistleblowers

Suffer More than Ever Under Obama (read).
Obama's support of the repressive monarchy of

Bahrain

: The Obama administration approved $200M in military sales to Bahrain in run-up to violent crackdown (read). Bahrain crown prince meets with Obama in DC - Officials reaffirm the strong US commitment to Bahrain (read).
Chicago Tribune editorial writer: Obama and the pursuit of

endless war

- starting new fights and prolonging the old ones (read).
FBI to Expand

Domestic Surveillance

Powers as Details Emerge of Its Spy Campaign Targeting Activists. The F.B.I. is giving its agents new leeway to infiltrate organizations, search household trash, use surveillance teams and search databases in domestic investigations. FBI agents will now be able investigate people and organizations "proactively" without firm evidence for suspecting criminal or terrorist activity (watch/read).

As chaos engulfs

Yemen

, the U.S. is diabolically intensifying a secret campaign of airstrikes, according to the New York Times

.

Report: Over 2,600

Activists Arrested

in US Protests since Obama took office (read).

In 2007, then-Senator Obama said: "If American workers are being denied their right to organize and collectively bargain when I'm in the White House, I will put on a comfortable pair of shoes myself, I will walk on that picket line with you as President of the United States of America. Because workers deserve to know that somebody is standing in their corner."... In 2011,

President Obama did not find his shoes to join the massive protests in

Wisconsin

(read)

.

Pentagon to consider

cyber attacks

an act of war (read).
Obama signs

Patriot Act

extension into law (read).
White House: No need for congressional approval for

Libya

(read).
Obama administration praises

Israel

for its restraint after it kills 20 on the "Nakba" (read).
| | |
| --- | --- |
| | |









May 2011 - Obama's hypocritical speech on

the Middle East


"The United States opposes the use of violence and repression against the people of the region" claimed Obama, while simultaneously dropping bombs on the people of Iraq, Afghanistan, Pakistan, Yemen and Libya.
Read statement from ANSWER coalition Director Brian Becker (Read)
It's moments like these that some people expected Barack Obama to act differently than George W. Bush or John McCain
After killing Bin Laden, Obama could have claimed victory and announced that the wars would come to an immediate end. Instead, he's doing what Bush or McCain would have done: Continue the wars in Afghanistan and Iraq, and the drone strikes in Pakistan and Yemen; pronounce that Bin Laden's death justifies all the wars; repeat the lie that 9/11 was the start of the war; and declare that the 'war on terror' must continue.
Obama supports

$700 billion bailout

of toxic financial institutions. (Sep '08)
As riot police were assaulting and arresting innocent activists outside the Democratic convention, Joe Biden was inside saying "Barack will put

more cops

on the street" (Aug '08)

Georgia/Russia

: Obama sides with Georgia - position similar to Bush and McCain. (Aug '08)
9/28/08 St. Pete for Peace statement on Obama following the first Presidential debate
Dear friends of peace,

The presidential debate on Friday night confirmed our previous statements about Barack Obama - he is not an antiwar candidate. St. Pete for Peace, in the strongest terms, condemns Obama's positions on Afghanistan, Pakistan, Iran, Russia, Venezuela, and Iraq, among others. Like John McCain, Obama is pro-military and pro-empire. And just like the Republican Party, the Democrats are not representing the people, as further evidenced by the Democrats who pushed at least as hard as the Republicans for the $700 billion Wall Street bailout.

Some people believe Obama is just making pro-war statements to get elected, but if that were true, how do you know he's not also being deceitful about the things he says in which you agree? And if he's saying things now just to get elected, how do you know he wouldn't say those things to get re-elected? Some say that an Obama presidency would mean that their antiwar voice has a chance of being heard. How can this be true if he's not listening to your voice now when he's trying to get your vote?

"But he's better than McCain" is the reason many give for their support of Obama. Yes, that's true. But, if somebody knocked on your door and said, "You can either give me your children, or you can give me every dollar you earn for the rest of your life" what would you say? You would say "neither" and shut the door. It's time to shut the door on the Republicans and Democrats until they start representing the people. Of course, John McCain and the Republicans are dangerous and should not be in power, but acceptance of the "lesser of two evils" philosophy is one reason we continue to be stuck with two evils.

So, what do we do? Well, if you support the Democrats and Obama, then at least demand they start representing you, or abandon the party. This is not a call to join some other party - election politics should be just one small part of participating in your country's affairs. This is a call to consciousness. What you do once every four years pales in comparison to what you do every day.

Peace

Would "take no options off the table when it comes to preventing

[Iran]

from using nuclear weapons or obtaining nuclear weapons, and that would include any threats directed at Israel or any of our allies in the region." (Apr '08)
"The truth is that my

foreign policy

is actually a return to the traditional bipartisan realistic policy of George Bush's father, of John F. Kennedy, of, in someways, Ronald Reagan." (Mar '08)
Said the 2008 violence in

Gaza

was the result of Hamas' decision to launch rocket attacks on Israeli civilians (Mar '08)
Said the US should not meet with (the democratically elected)

Hamas

leadership (Mar '08)
Would not rule out using

mercenaries

(private military companies) like Blackwater in Iraq. (Feb '08)
Said that US troops should be "relieved of the burden of policing someone else's civil war," and that

Iraqis

need "to take responsibility for their own future." (Jan '08)
Voted for Bush's 2005

energy bill

which sent billions of dollars in subsidies to oil companies. (Jun '05)
Voted to allow

credit card companies

to raise interest rates to over 30%. (Mar '05)
Two weeks after the

Iraq

war started he said, we "absolutely want to make sure that the troops have sufficient support to be able to win." (Mar '03)
"I am not opposed to all

wars

, I'm opposed to dumb wars." (Oct '02)

"Voting is easy and marginally useful, but it is a poor substitute for democracy,
which requires direct action by concerned citizens" - Howard Zinn, Feb. 2008