Cops slash tents of homeless, St. Petersburg, FL, Jan. 22, 2007





More on the homeless struggle in St. Petersburg

Pinellas Hope is the city of St. Petersburg's latest attempt to "resolve" the homeless crisis. But, as with their other efforts regarding this issue, it appears that all they really want to do is rid the city of homeless people. And this time they are putting $1.3 million into another flawed and disingenuous plan. Where is all the money going?

If you'd like to help bring attention to this situation, please contact Bruce@stpeteforpeace.org, or call 727-278-1547. To read more about the Pinellas Hope situation, please go here and here.
---
Picture blog of Nov. 27 vigil outside of Republican presidential debate site

Nov 27, 2007
The city of St. Petersburg appears to be trying to hide the local homelessness issue from the CNN Republican presidential candidate debate.

On Monday, barricades were erected at the rally site and homeless people and homeless supporters were threatened with arrest if they did not move from the public area across from the Mahaffey theater. Leading up to the 4-day rally it was understood by event organizers that the public area utilized for the sleepout and associated demonstration would remain just that - public.

In response to the question of moving the demonstrators off of the agreed upon public property three days before the debate,

St. Pete Police Chief Chuck Harmon said "If anybody's causing a confrontation it's certainly not the police department

, but we've got a job to do and we're going to do that". And

St. Pete Mayor Rick Baker said "To me if reflects the fact that we're in America, we're a free country the ability of people to protest is a great thing."



Banners were ordered to be removed from the public area, but before the order came, the banners were quickly re-positioned to drape over the barricades:


Nov 27, 2007- City brings bulldozer to homeless in front of St. Vincent's (Video part 1, part 2)


Nov 27- Homeless protesters forced to move across from Mahaffey



Tampa Bay's 10 coverage

(read, watch)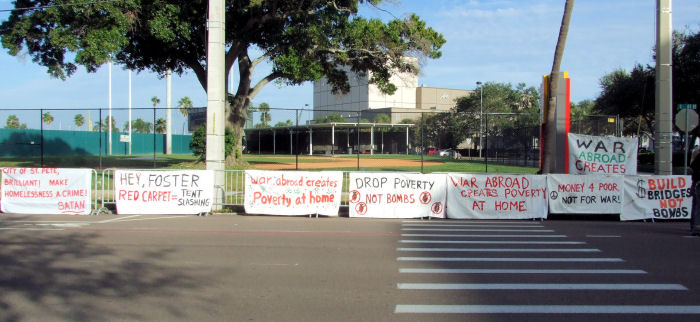 Regardless of the harassment and suppression of free speech by the city, the rally in support of the homeless has been very successful. The events started on Sunday with a meal of donated food and an interdenominational prayer service. A hunger strike and sleepout followed, and continued through Monday.

Please call Rev. Bruce Wright at 727-278-1547 if you have any questions.


To read more of the stuggle, including the earlier Tent City tent slashings,
please click here
---