Talk by Medea Benjamin and protest at Raytheon
Aug. 2012 - St. Petersburg & Largo, FL
Thanks to everyone for two great days of learning about, and speaking out against drones with Medea Benjamin and CODEPINK. About 100 people showed up to hear a powerful talk by Medea, and about 75 people held a vibrant protest and march at Raytheon.
Here's an article regarding the protest
. Event participants included St. Pete for Peace, CODEPINK, Food Not Bombs, Veterans for Peace, Occupy Tampa, NatureCoast Coalition for Peace & Justice and Occupy St. Pete.
WHY PROTEST AT RAYTHEON?
CHECK OUT THE CHANTS FOR THE PROTEST!
Check out a
photo of the protest in Arab News
.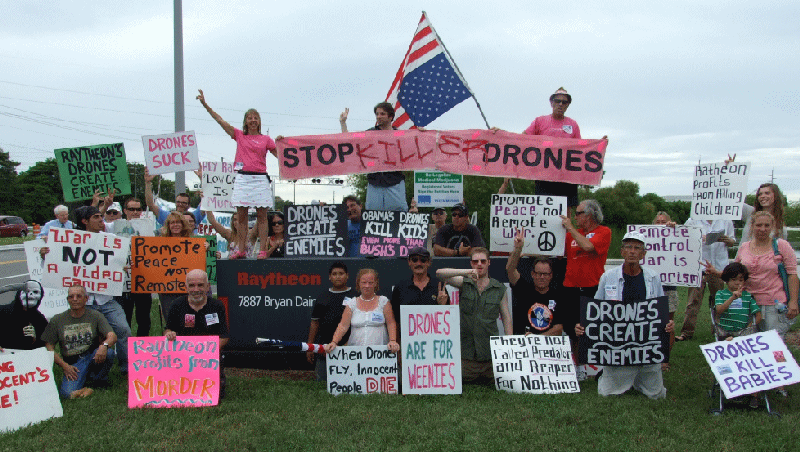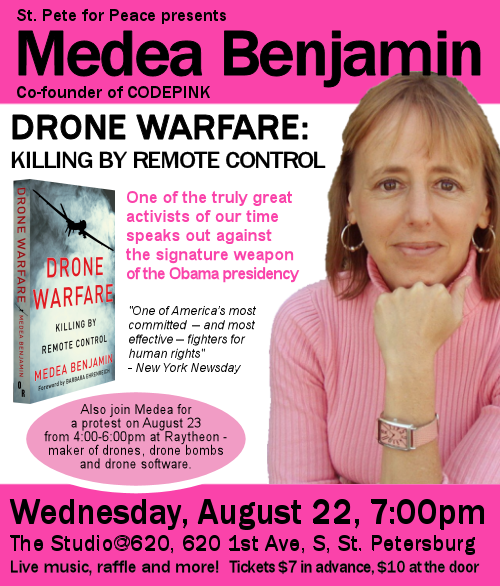 One of the truly great activists of our time speaks out against the signature weapon of the Obama presidency
Spend an evening with Medea Benjamin as she discusses her book, "Drone Warfare: Killing By Remote Control". Medea's talk will take place at
The Studio@620
, 620 1st Ave, S, St. Petersburg on Wednesday, August 22 at 7:00pm. The evening, sponsored by St. Pete for Peace, will include live music with Jun Bustamante, a raffle and more.
.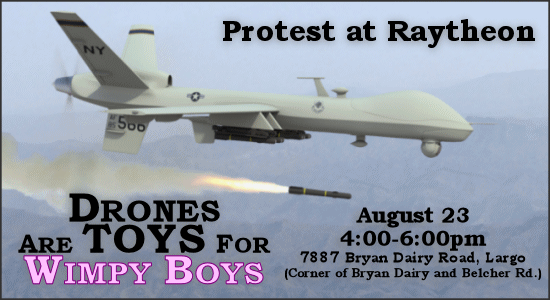 Medea Benjamin is co-founder of Global Exchange & CODEPINK: Women for Peace. Described as "one of America's most committed -- and most effective -- fighters for human rights" by Newsday, and called "one of the high profile leaders of the peace movement" by the Los Angeles Times, Medea has distinguished herself as an eloquent and energetic figure in the progressive movement. In 2005 she was one of 1,000 exemplary women from 140 countries nominated to receive the Nobel Peace Prize on behalf of the millions of women who do the essential work of peace worldwide.





"Activist extraordinaire Medea Benjamin has documented how the U.S. government's use of drones to murder hundreds of innocent civilians in Afghanistan, Pakistan, Somalia and Yemen has increased the danger to our national security." ­Ann Wright, U.S. Army Colonel (Ret.)

For more information send email to info@stpeteforpeace.org. Visit CODEPINK.org for more on Medea Benjamin and her new book.



---------



RECENT ARTICLES ABOUT DRONES
"Drones to patrol skies over Republican convention" (read).
US drone strikes listed and detailed in Pakistan, Somalia and Yemen (read).
UN Investigator to US: End 'Conspiracy of Silence' on Drone Strikes (read).
Cover-Up of Civilian Drone Deaths Revealed by New Evidence (read).
Hidden History: America's Secret Drone War in Africa (read).

Drone Convention Has No Room for Critics (read).
Court Upholds Domestic Drone Use in Arrest of American Citizen (read).
U.S. to Provide Kenya With Drones to Fight Militants (read).
Drone strikes threaten 50 years of international law, says UN rapporteur (read).
Ex-CIA Official Slams Obama's 'Indiscriminate' Use of drones (read).
Look up in the sky and see a drone - monitoring Americans from above (read).
Weapons Builders Bank on Proliferation of Drones (read).


Jimmy Carter savages US foreign policy over drone strikes

(read)

.

US plans more drone flights over Caribbean

(read)

.

America's Drones Are Homeward Bound

(read)

.
Raytheon provides the US military with drone software enabling it to attain "real-time access to actionable intelligence" gathered by drones around the world. That's the drone technology that helps a drone pilot in a Nevada desert decide when to fire a Hellfire missile.

Raytheon also produces a 500-pound bomb called the Paveway for use by larger drones like the Predator. It's developing a 100-pound missile called the Monsoon to challenge the dominant role of the 100-pound Hellfire made by competitor Lockheed Martin.

But Raytheon is discovering that smaller may be better, and is now developing lightweight drone bombs… It produced the Griffin, which weighs less than one-third of the 100-pound Hellfire missile. By 2010, Raytheon had already received more than $40 million in contracts from the US Army for the Griffin. (NOTE: Raytheon describes the Griffin as a "low-collateral-damage weapon" - admitting the weapon kills innocent people.)

Even smaller is the 13-pound, 2-foot long Small Tactical Munition designed, in the words of program manager Cody Trestchok, to meet an "emerging need" for missiles to be strapped onto smaller drones that have been, up until now, only used for surveillance. Raytheon also designed its own Cobra drone to carry this little bomb.

And keep an eye out for what

Popular Science

calls a "Supersonic Shape-Shifting Bomber." With a target completion date of 2020, a Raytheon unmanned bomber -- also called Switchblade – will have adjustable wings that will purportedly enable it to "loiter just outside enemy territory for more than a dozen hours and, on command, hurtle toward a target faster than the speed of sound."

Source: Excerpts from "Drone Warfare - Killing By Remote Control" by Medea Benjamin
DRONE PROTEST CHANTS
Some of the chants below are specific to Raytheon, but you can change the name to General Atomics, Lockheed Martin or any of the other warmongering weapon manufacturers who profit from war!

HEY HEY – HO HO – KILLER DRONES HAVE GOT TO GO
NO DRONES – NO WAR – (THE MIDDLE EAST/SOMALIA/YEMEN/PAKISTAN) CAN'T TAKE NO MORE
NOT A PENNY – NOT A DOLLAR – WE WONT PAY FOR HUMAN SLAUGHTER
RAY-THE-ON - SHAME ON YOU! (CHILDREN/YEMENIS/AFGHANS/SOMALIS) DIE BECAUSE OF YOU
RAY-THE-ON - WE'RE ON TO YOU - BUILDING BOMBS SINCE WORLD WAR TWO.
1, 2, 3, 4 - RAY-THE-ON LOVES WAR…….. 5-6-7-8 - RAY-THE-ON SELLS HATE
RAY-THE-ON, WAR PIGS - BUILDING BOMBS AND KILLING KIDS
RAY-THE-ON MAKES WAR TOYS - KILLING GIRLS AND KILLING BOYS
KILLER DRONES ARE A CRIME, FROM PAKISTAN TO PALESTINE
OBAMA'S DRONES KILL KIDS, EVEN MORE THAN BUSH'S DID
HEY OBAMA HERE'S THE PLAN – STOP THE DRONES IN PAK-I-STAN
YOUR DRONES SPY AND KILL, THEN YOU FOOT, US THE BILL